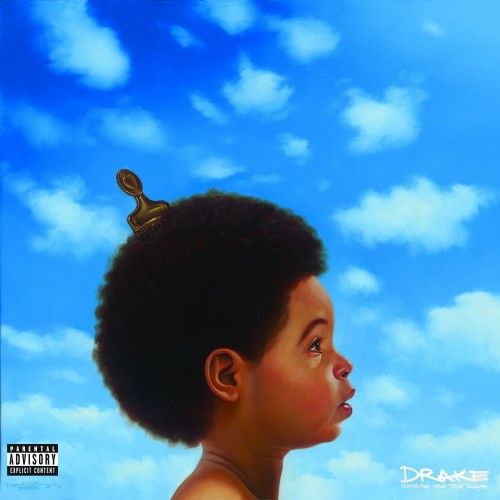 Whether you like it or not, Drake's good. He's been good since he dropped like five years ago. But still, he remains one of the more polarizing rappers out. It could be that he's from Toronto. Maybe it's the
Degrassi
(oh, and
Charlie Bartlett
!) acting past. It could just be the R&B half of his discography. Whatever your reason to slight him, one thing is constant: He makes good music.
Case in point,
Nothing Was the Same
, Drake's third studio album that dropped yesterday. After binge listening for the past few hours (and with a week's head start—Go internet!) here's my track-by-track review of NWTS.
1. Tuscan Leather
Ok, I'll be the first to admit, this is the most aggressive opening track in Drake's catalogue. But honestly, I only have
Fireworks
and
Over My Dead Body
—not two of his most fiery openings—to compare it to. But other than that, I'm not a
huge
fan track of this other than the Heatmakerz-esque high-pitched sample and the pretty smooth beat switch and (better) verse that accompanies it. Don't worry, the album picks up from here.
2. Furthest Thing
So remember that R&B Drake that I mentioned earlier, boom. This shit
goooooes
though. Introspective, melancholy Drake is still good Drake. I'd be surprised if this wasn't one of Aubrey's favorite tracks from the album. This even has a very
So Far Gone
ish feel to it. Not to mention a second beat switch toward the end. Frequent Drake collaborator 40 is actually on his Just Blaze on the second half of this one. And it works.
3. Started From the Bottom
It didn't take long for the internet (and our annoying Facebook friends and their statuses) to make us tired of this song but in all honesty, after a few weeks of not hearing it at all, I like this one again. Give it a few more weeks even and I might even forget about the snow scene. Yeah,
that
snow scene. I
don't
want to forget about
her
, however. Anybody got her name, by the way? (For a friend.)
4. Wu-Tang Forever
I refuse to feel bad for liking this song so much. The worst part about it is that if it were up to the internet, we should be outraged that such a mellow song has references to Wu-Tang in the title. But honestly, that's dumb. And the subtle yet repeated "It's Yourz" sample justifies the title just fine for me. (HOW YOU FEEL ABOUT….?!)
5. Own It
See, Drake even used the "It's Yourz" sample on this song, too. With that being said, I have mixed feelings about this song. First off, this song is so
So Far Gone
that it's insane, but that's not necessarily a bad thing. Second, this so is so Drakeish that it's insane. I'm not 100% sure what that means, but I think you'll agree. I think that this song is so familiar because we've heard it from Drake so many times. Not bad overall, though.
6. Worst Behaviour
Ok, the album is seriously picking up some steam at this point. Perfect placement for this song, especially following the last two slower songs. This song essentially embodies why we listen to Drake: Creative and funny verses, simple yet effective hook and a couple good punch lines. Mainly: "Bar mitzvah money like my last name Mordecaiiiiii…fuck you, bitch. I'm more than high." AND LET'S NOT FORGET the Mase-inspired third verse. As an avid Mase fan, the song could've started and finished with that verse and all would've been well in the world.
7. From Time feat. Jhené Aiko
You didn't' think we'd make it all the way through a Drake album without a real deal relationship song, did you? Good luck with that. Drake even goes as far as name-dropping and telling stories of past relationships in this song. I should make one of these. (Actually, maybe not.) Also noted, we're halfway through the album and just getting to the first featured artist (with the exception of background vocals.) I can appreciate that. Not only that, but Jhené Aiko is dope and I should probably be listening to her much more than I do now.
8. Hold On, We're Going Home
I don't know. Just watch.
9. Connect
Another slow one that just works. I'm actually pleasantly surprised at how well this album flows from song to song. You can definitely hear Drake's Texas influence in the background of this one with Trae the Truth dropping background vocals. Will allow.
10. The Language
BIRDMAN 5 STAR OUTRO. GAME OVER.
11. 305 To My City
First off, Detail sounds frighteningly similar to Lil Wayne. (Am I the only one that didn't know this?) This song is pretty dope and I'm almost positive this is what Drake was writing in his infamous strip club pen session:
Peep Drake ass in the background writing lyrics at a strip club lmfao 😂😭😩 pic.twitter.com/jxD3aS0dkG

— Curtis Jayy (@KingCurtisJayy) August 6, 2013
12. Too Much feat. Sampha
This guy's name is
Samp
ha so clearly I like this song already. Following a very Drake-like performance on Jimmy Fallon, I'd be surprised if this isn't the next single from the album. This is a pretty smooth song and Sampha's background vocals throughout the song really brings the beat together.
Drake and Sampha also worked together flawlessly on
The Motion
.
13. Pound Cake/Paris Morton Music II feat. Jay-Z
Ah, finally. What better way to close out an album than by featuring the greatest rapper of all time…..and potentially his worst verse of all time. Hate to finish this post out focusing on Jay-Z but come on. Cake, cake cccake c-c-c-c-cake…what was he thinking with the second half of his feature? And the verse started with so much promise. Once I saw Jay listed I was positive this would be my favorite song on the album. But nah. It's not quite as bad as
Off That
but those cake lines definitely made me think twice.
All in all, I really like this album. It's very easy to listen all the way through without even glancing at the skip button, cake verse included. It's clear that Drake's really found his lane(s) and is content with his current place in hip-hop. And thank goodness for no Lil Wayne features.
Also, if you're not using
this
or
this
as your album art, you're doing it very wrong.