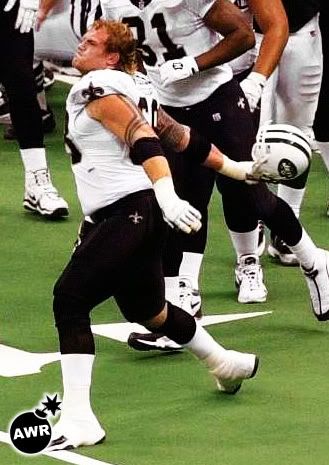 Oftentimes I have random mind-ramblings. It might be about something I read, something I saw on tv or something I had a conversation about. A lot of times I think back about these events and I say
"Damn, if I could go back, ______."
These random mind trips have gone undocumented until now.
Well, I was listening to
Chillin
by Wale and I got to the line "You niggas mad that you not me/I remain a Giant and you Jeremy Shockey..." You know,
this part
. I always liked the line, but it got me to thinking.
Jeremy Shockey
is a pretty wild dude. Great player, but he's now a New Orleans Saint. Then I remembered that the craziest of all crazy New Orleans Saints was
KYLE TURLEY
.
If we could go back to this
, I'm sure we'd detect very large amounts of ACID in his bloodstream:
I know that was pretty random and I'm not even mad at Kyle Turley. I just hope that my friends would do the same for me.
Acid or no acid.
[Note: They would.]