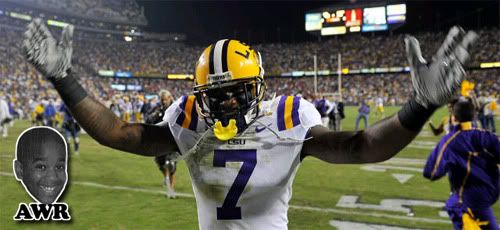 I know LSU is a long shot for the National Championship. I know this. But there's still games to be played...so you're sayin there's
still a chance
?????
I mean, it's a long shot but definitely still a possibility. All I need for my Tigers to make it to the big dance are any combination of the following:
With all this Cam Newton speculation, not to mention the best current college football coach in Nick Saban and the reigning National Champion at HOME...it's just gonna be too much for AU to keep up with.
This is a long shot. A real long shot. But I need it. The only thing going for Nevada is that they're in the Top 20 and playing at home. But they don't really stand a chance.
Oregon upset by Oregon State Next Weekend
I actually feel like this could happen. I mean, it's a rivalry game that O-State has had on their radar all season. Also, they're obviously gonna play up for it, they have nothing to lose and they'll be at home. I would actually put money on it.

So I know I'm gonna be leaning heavily on the football gods. Again, I know this. But I really feel like this could put us in the National Championship against TCU without even playing in the SEC Championship.
Can you touch that?? CAN YOU TOUCH THAT?!