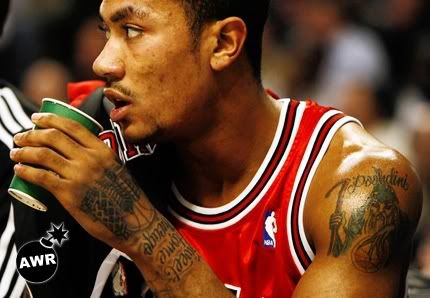 Big game tonight in Chicago. We have a chance to tie the series at 3 games apiece and
force
a Game 7 back in Boston. And I think we can do it. Even though it sounds like a Disney movie, the Bulls gain a
lot
of confidence with every close game we play. And in contrast, the Celtics lose a little. I'm not the kind of fan that's happy with just not getting
Piston'ed
...I want to WIN. And I believe will will tonight and next game. So what?? And it's
gonna
be a close one. Three of the five games have gone to at least overtime and one of the non-overtime games was won by a last second shot. If we show up to play, then I'm sure I'll be doing this after the game:
Andyaknowdaaaat.
Now onto the "controversial" foul from Rajon Rondo onto Brad Miller: I think that it was a foul and maybe even a regular season flagrant foul...but a flagrant fould in game 5 of the playoffs with 1 second left?? While I wish the flagrant would have been called, I don't think that the ref would make that call at this point in such an important game. But Rondo
did
leave Brad Miller's mouth lookin like
this
. Damn. And after Rondo throwing a punch that connected and getting off, why did Dwight Howard get suspended for Game 6 after throwing an elbow?? That's messed up. With that being said, I'm sure that the next person to commit a flagrant foul in this serious will definitely be suspended....if he doesn't play for the Celtics.
[Note: I know you saw Josh Smith's ass try to get that under-the-legs dunk during last night's Hawks/Heat game. Not only did he miss it, but he gave the ailing Heat even more motivation Wtf.]
Um, he
did
dunk on Jermaine O'Neal though...
Bawse.