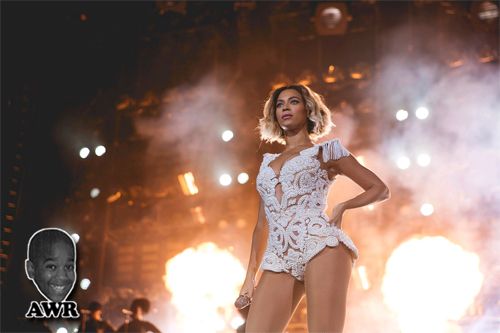 But, hey, hear me out.
"New Year, New Me" right? [Yeah, I hate when people say that, too.] I'm trying a couple new things for the 99 and the 2014 and the first is going to be posting on here more frequently. The other is the occasional guest post. This first post is from my lovely friend Christina (@ChristinaRpr) and she's probably the perfect person to look to for a fresh perspective since we agree on basically nothing. Except the fact that we're best friennnnddds. (We're not really best friends.) And I realize it's now January 3 and Beyoncé's album came out a few weeks ago but hey, the holidays just past. Those were clearly more important than me updating my blog. Well, here's Christina!
_________________________________________________________________
I'd like to first take a brief moment to recognize a.samp for allowing me to discuss the Beyocalypse on his blog, because as we all know, a.samp's usually right - on matters of football, hip hop, booze and snookups... but today, he passed the torch to me to review Beyoncé's surprise self-titled, EARTH-SHATTERING visual album, "Beyoncé" - and well, as a fan and someone who's been patiently waiting for her next "era" to begin, I'm very happy to oblige.
Gosh, where do I even begin? Within hours of the surprise release, she'd already sold 100,000 copies exclusively on iTunes and has now reportedly sold over 1.5 MILLION, which is like, the most records sold by ANYONE on iTunes, like, EVER. Not sure if that's accurate but it sounded good. :)
The album is solid. The accompanying videos are stunning and provocative. She's 32, and she's never looked so good or appeared more confident than she does on this album. In fact, I'd argue that this project is some of her best work to date. Every "short film" spills over seamlessly into the next one, creating this body of work that's cohesive, thoughtful, masterful and sexy... but tasteful (kinda) - in typical Beyoncé fashion.
I just love it. Every single song, every single visual. It's perfect. I haven't LOVED a Beyoncé album since "B'Day," but this time - she nailed it. Working with the likes of Justin Timberlake, Miguel and Drake, the records are soulful, modern, funky, infectious, fun and even...political? Yes, she's even offered us some socio-political dialogue on the not-so-fair expectations of women and our obligation to support the feminist movement via prominent Nigerian writer and feminist Chimamanda Ngozi Adichie's brief cameo-sample on the record "***Flawless" and somewhat on the ballad "Pretty Hurts."
Beyoncé cited in the "Making of" video and in her official press release that she wanted to provide listeners and fans an "immersive, multi-platform experience," that changes the way we consume music. In other words, she's merely adapting to the increased demand of consumers wanting multi-media content available and accessible 24 hours a day, 7 days a week on their mobile devices and tablets. Smart and therein proven by the fact that she sold nearly half a million copies in just a couple of days of the release. Risky, sure ... successful? I'd say yes.
She's undoubtedly the hardest working entertainer in show business, underscored by the mere fact and audacity that she was (and still is) on a WORLD TOUR - yet managed to bang out these records, videos and promotional planning at the same damn time.
This project exudes everything Beyoncé represents as both an artist and businesswoman tirelessly fighting to maintain quality of music and entertainment in the industry. Whether you "get her" or not, you gotta respect her for it!
Again, I like every single record and video on the album, but here are my faves!
Drunk in Love (feat. Jay Z) - Yeah, we're kinda obsessed with these two so anytime they collab, we're given exactly what we need, but never too much. The song is a SMASH, will be in heavy rotation on hip hop AND top 40 stations, and the video is loosely directed and fun to watch. I especially enjoy the weird stripper-leg-kick-twerk-jig thing she's doing throughout - totally here for ratchet Beyoncé. Directed by Hype Williams.
Blow - This seems to be the popular favorite, written and produced by my bae PHARRELL. It's a very catchy and suggestive record about the pleasures of oral sex - pretty explicit for someone who barely swore at one point in her career. The video is super fun and yeah, she looks phenomenal. Directed by Hype Williams.
No Angel - shot in her hometown, Houston, Texas and apparently Brunswick, Australia, NO ONE CAN MIX RATCHET AND HIGH FASHION LIKE BEYONCE, and that's frankly why we love her. I'm pretty obsessed with this video, actually.
Partition - Produced by Timbaland, and actually one of my favorite records, really love the heavy baseline. The video is a little porny but it works. I love that Jay Z is her video boy and is just there watching, chilling... partaking. The song itself isn't terribly explicit minus the eyebrow-raising lyric - "He popped all my buttons, and he ripped my blouse/ He Monica Lewinsky-ed all on my gown" NICE. *notes that Monica Lewinsky is now a verb.*
Jealous - LOVEEEEEEE the Parisian backdrop and influences. Love the candor of the lyrics. She apparently shot some scenes at 4 AM in NYC.
Rocket - The most soulful record on the album, clearly influenced by D'Angelo's "Unititled" and co-written by Miguel. Another video showing lots and lots of Beyoncé's "I just had a baby, but I bounced back, bitch" body. Video's soft-porny but again, it works.
Mine (feat. Drake) - OKAY. Girls love Beyoncé, girls love Drake. Perfect record, perfect accompanying artistically-interesting visual. I'm obsessed!
Blue (feat. Blue Ivy) - Brazil is the backdrop, Beyoncé looks AMAZE and Blue is ADORABLE. WHAT MORE COULD WE ASK FOR?
The other records/videos "Pretty Hurts," "Flawless," "Haunted," "XO," "Heaven," "Ghost," "Superpower," and "Yonce" are all solid records with cool accompanying visuals as well, overall making for a substantial and truly immersive project that's equally as appealing as it is satisfying. Definitely a must-buy! Also - interesting marketing strategy to release physical copies right before Christmas. The woman is SMART.
Oh, and I think I have finally found and replaced my wig.
Thanks, Samp :)
Follow Ms. Reeves (@
ChristinaRpr
) on Twitter. She's not so bad. Thanks Chris!