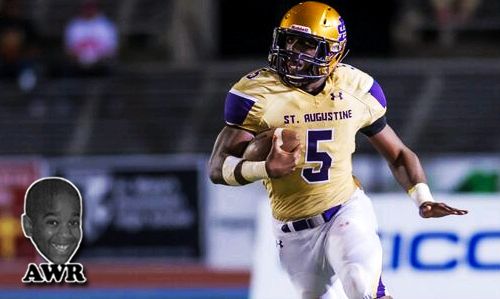 I knew it all along. I swear.
There's no way that good ol'
Leslie Edwin
could let arguably the
biggest offensive recruit
in recent history that just
happened
to be from Louisiana, leave the state for his collegiate career...
is there
? Yesterday I actually entered the day
extremely
somewhat optimistic that LSU would go
5 for 5
with the
remaining recruits
at the Under Armour All-American game. And I wasn't the only one.
!!! RT @lukejohnson44: Commitment schedule: Speedy Noil 1Q, Jamal Adams 2Q, Gerald Willis at halftime, Tony Brown 3Q, Leonard Fournette 4Q

— Samptavious Mingo (@SampGetsSnooks) January 2, 2014
Today is the day #LSU5For5. Just kidding. I mean, I hope I'm not, but LSU can't have things that nice yet.

— Could Be (@Adam__OS) January 2, 2014
"What if I told you ... some empires ... really can be built in a day?" #LSU5for5

— LukeMayeux (@LukeMayeux) January 2, 2014
Well, 5 for 5 didn't happen. But we did get two, including the the #1 overall prospect, Mr. Buga Nation himself, Leonard Fournette.
And I couldn't be more excited.
Why
am I so excited? Don't believe me, just watch:
See? He's Adrian Peterson 2.0. He's currently a man among boys. When he gets to LSU he'll be a man among young men. And besides, he does rap squats.
Leslie Edwin strikes again.
#Geaux Buga Nation !!!

— Les Miles (@LSUCoachMiles) December 19, 2013