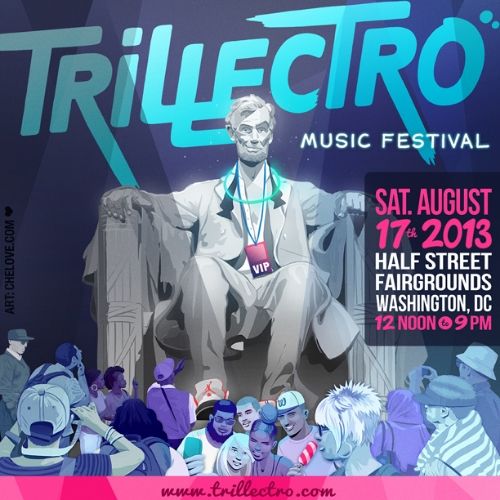 [This article was originally written by asamp at ClanEclectic.com.]
Everything's a debate these days. Kobe vs. Lebron. Morehouse vs. Howard (we all know the answer to this one). And even Godfather vs. Godfather Part 2 (We'll pretend the third one didn't happen). All that being said, what could possibly be the best thing about Trillectro—DC's annual hip-hop/electronic mash up music fest? It could obviously be the collection of two usually separate genres of music, joining forces for a day-long concert series. Or it could be the dozens of amazing DC food trucks lined up and an endless supply of DC Brau for the people. Quite frankly, it could even be the name. Regardless of your motivation for attending, Trillectro 2013 will undoubtedly have something for everyone.
Following the last summer's inaugural show, the good people from DCtoBC [Modi, Quinn & Marty] have started right where they left off with a very creative marketing blitz like none we've seen before…unless you saw last year's. Also, the Phase 1 lineup was released not too long ago and again, no matter the musical taste, there will be something for everyone.
Confirmed so far (in alphabetical order):
Alex Young • A$AP Ferg • Carnage
DJ Sliink • Gent & Jawns • Ghost Beach
Gold Room • King Chip • Nadastrom
Travi$ Scott • Salva
Now, I don't know about you, but just the chance of hearing A$AP Ferg perform Work live is worth the price of admission. This year's festival is taking place at the Half Street Fairgrounds in DC on August 17th from 12 noon – 9:00 pm and additional acts will be released as we get closer to the date. For DC locals or those making the trip, the show takes place outside Nationals Park at the Fairgrounds/Bullpen. Check the video below to see what happened last year. It was nuts.
That video alone should provide enough motivation to get you there. But just in case it didn't, head over to Trillectro.com and join the mailing list or catchTrillectro on Twitter. See you at the Fairgrounds.