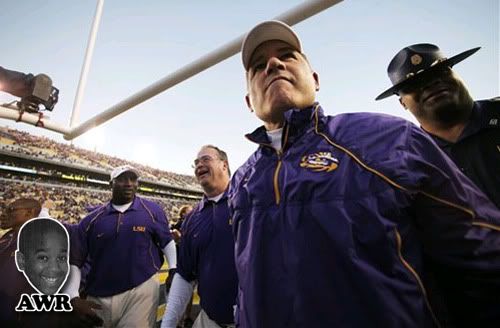 I'm a couple days late due to being busy at work but HOW BOUT THEM TIGERS??? Saturday night in Baton Rouge we were able to
knock off
our bitter rival the Alabama Crimson Tide 24-21, giving us our marquee win of the year and ruining the Tide's chance to repeat as National Champions.
This is pretty much what happened:
The play of the game in my opinion was this reverse on 4
th
& 1 in the fourth quarter:
Yea u right. Check out the other highlights:
The win puts us at the mercy of Auburn because we need for them to lose twice in order for us to have a shot at the SEC Championship and consequently a shot at the National Championship. It's definitely a long shot but it's also light years away from Les Miles being on the
hot seat
. Not too bad.
But what might be bad is Les Miles' latest eating habit...
eating grass
.
Les Miles. A guy who eats grass and occasionally loses track of time.
But hey man, whatever it takes.
Whatever it
fucking
takes.