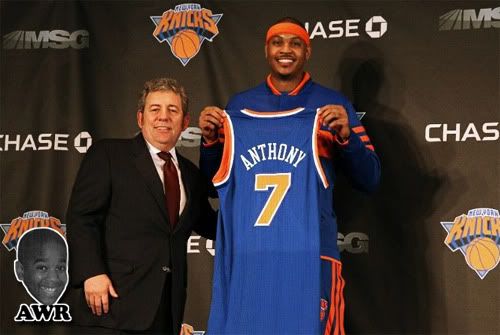 "Now we're respectable. Now we're a contender."
I mean, that's real. These words were from life-long Knicks fan
Stephen Burnett
before Carmelo Anthony's Knick debut last night. I have to admit that it's kind of weird seeing Melo in blue & orange, but I ultimately think he made the right move. Denver wasn't going to get it done and Melo really wanted to play in New York/New Jersey. The stat line was pretty good for Melo: 27 & 10.
Highlights, you say...??

Sheeeit.
With Carmelo and now
Deron Williams
heading to this side of the country, the NBA is definitely East-heavy. And I couldn't be happier.
The only person that shouldn't be happy about this is
Kenny "Sky" Walker
. His #7 Knicks jersey is now quite irrelevant.
Ah well.
Bulls Front Office....let's make a move. Please??