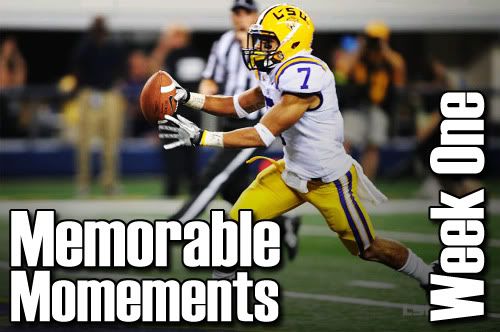 The University of Maryland pretty much stole the show from the rest of college football when they
unveiled
one of their new uniform combinations against Miami Monday night. I'm sticking with my statement that the flag-themed helmet are dope and the jerseys are alright from the
front view
but just plain hideous from
either
side
. Regardless, this post is about everything noteworthy from this past week of college football
not
having to do with Maryland's tribute to um, Maryland.
5. Joe Adams Dropped Punt Return Touchdown/Evan Spencer's One Hand Catch
EGHCK. I realize that Missouri State and Akron aren't what we'd call great teams but these are still impressive. Like reeeally impressive.
4. Brian Kelly Is Quite Possibly the Angriest Human Alive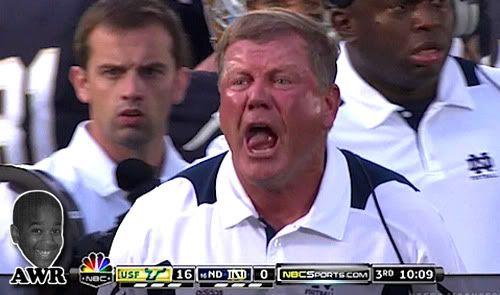 I'm not sure whether it was the impending home loss to unranked USF, the red zone interception or just a case of the Saturdays but Brian Kelly needed more than a chill pill this weekend. Thanks to
Dr. Saturday
for this one.
3. Robert Griffin III is a
PROBLEM
.
359 yards and five touchdowns against TCU? EGHCK. He should definitely end up a dark horse candidate for the Heisman.
2. Kerwynn Williams' Barber Should Be SHOT...in the face.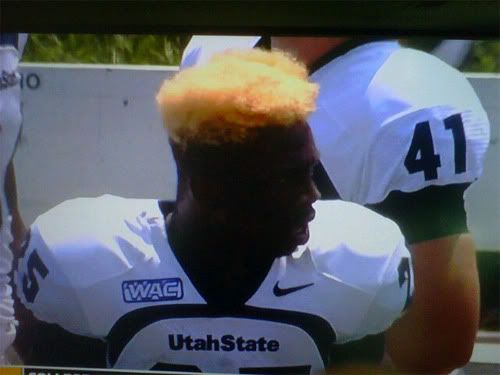 This haircut is an absolute debacle. He looks like a cross between Simon Phoenix from
Demolition Man
and a Golden Lord from
Meteor Man
. Seriously, how can he even do this interview with a straight face??
1. LSU Handles Business Against Oregon, Jumps to #2 in AP Poll
Amazing defense, punctuated by great plays from Tyrann Mathieu helped LSU against a loaded Oregon team. We still have a long season ahead but with this strong start, we have even higher hopes of finishing the season in New Orleans. And this kid Mathieu is a monster.
Gonna be another great season of College Football.
Geaux Tigers.