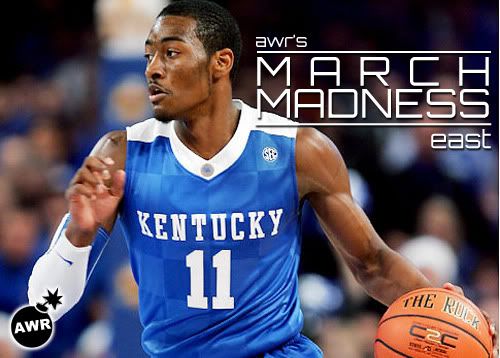 Yes. I'm finally blogging about
March Madness
. Work has been crazier than ever but I'm finally back. And it's the perfect time. This year is bound to be one of the most unpredictable tournaments in a very long time, so no picks are really too far-fetched. Since I'm participating in like 5 different brackets, I'm only going to post my finalist in each region, my upsets and my team to watch. That might be too much already but whatever. So here's my breakdown of the East:
East Region Finalist: Kentucky
Even though experience might the most important thing to have going into the tourney, sheer talent might be a close second. I'm looking for the combo of Wall, Cousins and Bledsoe to be the best young tourney team since
Melo and the boys
in 2003.
Upset: Cornell over Temple
Most years this seems like a crazy pick but this year is unlike any other. Cornell has a pretty decent game inside and out, highlighted by .434 three point percentage. Hey, you gotta pick upsets somewhere.
Team to Watch: West Virginia
Really, it's player to watch. Da'Sean Butler has been getting BUSY all year and he pretty much singlehandedly won huge games in the Big East Championship

twice

. That leads me to believe that if placed in a similar spot in the tourney, he could make it happen again.

I'm not sure what it is but I'm in a really good mood. I always do well in March Madness and some of these brackets are for $$$. Welp, must be the money!





Midwest Region up next!