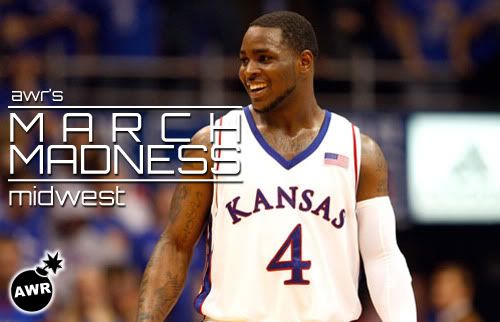 Aight, now for the Midwest Region. Even though it's been debated whether overall number was actually given the easiest road to the Championship, this region was less difficult to pick. Let's get to the Midwest Region:
Midwest Region Finalist: Kansas
Gotta go with Kanas in the Midwest. There might not be another team in the tourney with as good a balance of experience and talent. Sherron Collins has lived up to the expectations and was able to lead his team to the number 1 overall seed. It's been argued that Kanas' road might not be too easy, but they're still only going to have to possibly play Michigan State, Ohio State or Tennessee, that beat them back in January. All do-able games.
Upset [If You Can Call it That]: Northern Iowa over UNLV
I mean, these teams are 8 and 9 so they're pretty evenly matched but I've seen Northern Iowa play more than UNLV. Plus, my boy
Mase
used to play there so I'm giving them the benefit of doubt. #sampshrug
Teams to Watch: Ohio State and Maryland
The main reasons to watch these two teams are their marquee players,
Evan Turner
and
Greivis Vasquez
, respectively. Both of them are good enough to take over a game at any time. And they probably will.
Up next, West Region!