Yesterday's picks didn't really go to well for me.
Duke had no answer for Nova's guards and couldn't make a shot into the ocean. [Seriously.] The Blue Devils
shot fucking horrendous from the field. And even worse, the same three point shooting that got them to this point really let them down as they only shot 5-27 from behind the arch. Nova balled, Duke didn't.

Oh Memphis. Damn. Purdue tho???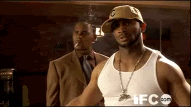 I'm still shocked over this one because it felt like an easy pick. The defense for Memphis just didn't show up. They gave up 100 points for the
first
time in the John Calipari era. The first time...and in a game of this magnitude. Tyreke Evans balled like I thought he would [33 points] but he didn't get much help. Oh well. Hope you don't have them winning it all. Because then you lose.
Now onto the second half of the Sweet 16:
Game 1: Arizona (12) vs. Louisville (1), 7:07 pm
This one is pretty easy to predict. Louisville is the #1 overall seed for a
reason
. Terrance Williams
balls
and he is about to go off tonight. I think if they still had Jerryd Bayless they would have a shot. But they don't. Sorry 'Zona.
Game 2: Syracuse (3) vs. Oklahoma (2), 7:27 pm
I'm gonna have to go with 'Cuse on this one. I have this on my bracket and I'm sticking by it. Jonny Flynn is going to show Willie Warren how to be a premiere college point guard. Ow. Devendorf and Rautins are gonna knock down every shot they see. Blake Griffin's gonna get his
insane
numbers but I'm not sure his supporting cast will really step up against this tough-minded Syracuse team.
Game 3: Kansas (3) vs. Michigan State (2), 9:37 pm
I'm going with my man (nh) from back home, Sherron Collins and the returning Champs on this one. Michigan State doesn't have the firepower in my opinion, even though they have some pretty tough defense.
Fuggg it
.
Game 4: Gonzaga (4) vs. North Carolina (1)
Another easy one to call. UNC is really about to blow out Gonzaga out with this one. I know Lawson is about to show that his second half against
my
Tigers was not a fluke. And who, exactly, does Gonzaga think is about to hold Tyler Hansbrough? Danny Green?? Wanye Ellington???? Come on Bulldogs. Carolina by 10+.
I'm thinking that might picks for tonight are more secure than last night's. I'm goin 4-0 tonight. Ow.
Oh yeah, and Wale x UCB Concert
tonight
at the Loft. Owwwwww.
Too bad I won't be seeing any of these games, or the Wale joint because I'm hitting up with Hawks/Celtics game tonight with Wonderboy and the boys. Watch out.
[Note: And it's so f'ing messed up that Kentucky fired Billy Gillespie after just two years. It's damn near impossible to turn a program around in two years with limited scholarships. That's part of the reason what the Devil Nick Saban did in Alabama so special. You gotta be reasonable.]
Wavy.