The Alabama Crimson Tide finished off a perfect season by winning the BCS National Championship last night against Texas. It was their first championship since 1992 and they won the game on the defensive side of the ball. By
knocking Colt McCoy out
after just five plays, Bama's defense was able to load the box and kill the run. Plus, when you have
Gilbert
Javier Arenas "
killing drives
," it's going to be hard to get your offense going. Ingram and Richardson played really big. So big, that even McElroy's 59 passing yards couldn't blow the game.
[Note: I was also surprised/impressed to find that McElroy is a Rhodes Scholar candidate.]
Congrats to the Tide. AND I
almost
got the score right...almost.
[Note: I didn't include a photo of Alabama or Nick Saban celebrating because I have a strict "No Alabama or Nick Saban Celebrating" Rule enforced on this blog. I'm happy for them, and the SEC, but we're still rivals at the end of the day. At least your fans are proud.]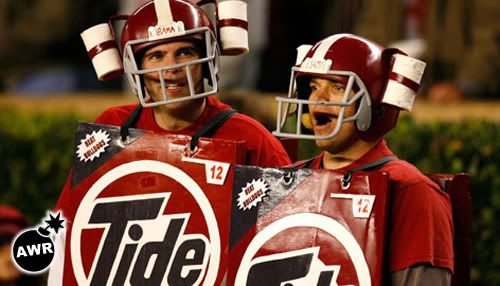 Geaux Tigers.