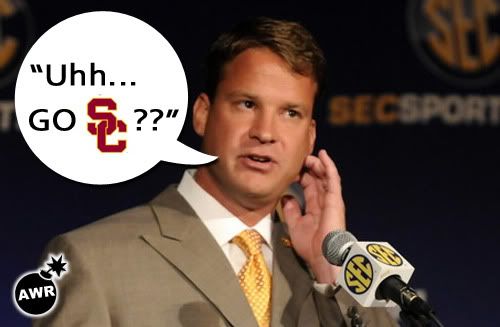 Lane Kiffin shocked the college football world when he accepted the Head Coaching
job at USC
, after only ONE season as the University of Tennessee's Head Coach. My stance on this might surprise you. I'm not mad at him. First off, Kiffin is from the West Coast and has coached at USC in the past [2001-2006]. Secondly, with Monte Kiffin, Ed Orgeron and possibly even Norm Chow following Kiffin to USC, who can blame him? Even though USC will be facing
sanctions
in the near future for past violations, it still might be a better overall job
currently
than Tennessee. And also, UT's
rap sheet
isn't 100% clear either. PLUS, and maybe most importantly, would you rather live in
Knoxville
or
LOS ANGELES
??? Should be a no-brainer.
There are really no similarities between this situation and Saban's, even though both were pretty shocking. USC is in a different conference, on the other side of the country, almost guaranteed to not play Tennessee. And the major difference is that the majority of his former UT players
are not mad
with his decision. The real question should be "Why Kiffin??" He was only 7-6 during his time at UT and only 5-15 in the NFL. But I guess the argument against those records is that he didn't have enough time to make a difference. Either way, Tennessee is without a coach and probably wishing they hadn't fired
Phillip Fulmer
.
Oh well, Geaux Tigers.
[Note: I couldn't write post this without mentioning Lane Kiffin's wife. Py-YOW.]