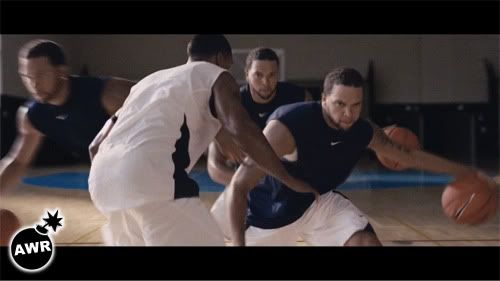 Yea...I got another Late Pass coming. This one's not completely my fault but it demonstrates why Nike is one of my favorite companies. One of their latest commercials, entitled
Human Chain
, is one of the dopest commercials I've seen in a long time. I missed out on it because I don't watch much tv...besides ESPN, Seifeld and
The Colbert Report
. Kind of ironic, huh? My boy @
MrDuckworth87
told me about this joint last week but I'm just now getting around to posting it. Oh well, the commercial is dope. It has appearances from Oscar Pistorius, Sergio Aguero, Deron Williams, Maria Sharapova, Mike Spinner, Rampage Jackson, LaDainian Tomlinson and Lance Armstrong. Wide range of athletes for a broad reaching advertisement. Nike can do no wrong.
Oh yea, and the soundtrack is
Ali in the Jungle
by the Hours. It was also on the FIFA 08 soundtrack. ROCKIN too.