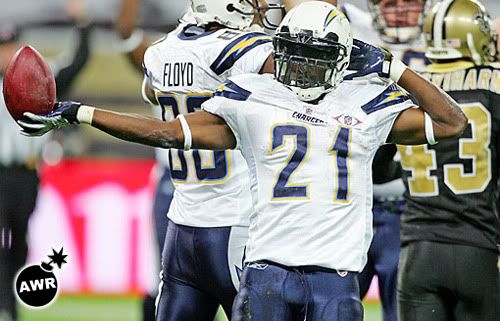 When news broke yesterday that the San Diego Chargers had
released
LaDainian Tomlinson, I wasn't really surprised...mainly because he said it would happen
weeks ago
. The reasons he was traded are obvious, he was owed a $2 million roster bonus and $5 million in total salary next year after career lows in both total yards [730] and yards per carry [3.3]. Yikes. The only real question left to be answered is "Where will LT go next??" So where could he go:
Even though the rich would pretty much be getting richer, LT would make sense as a 10-15 down back in an offense that already is full of weapons. He could team up well with Brady and Moss and Belichick has been good at working with veterans.
This one hasn't really been reported [at all] but I would love to see it happen. Tomlinson could draw the attention needed to take pressure off of Jay Cutler. In addition to Mike Martz as the OC, LT could be a great teacher for Matt Forte, Kahlil Bell and Adrian Peterson, all promising backs.
I can really see this move happening. Even though the Eagles won't give him the entire $5 mil he's expecting, they would be able to make a pretty good offer to LT. Add him to the young talent at running back in McCoy and experience in veteran Brian Westbrook, and you could have a pretty deep backfield. Only problem is Tomlinson + Westbrook =
this
.
[Update: Brian Westbrook has also been released. Yikes.]
My final possible destination for LT is the New Orleans Saints. He played earlier in his career with current Saints quarterback Drew Brees and it would land him with a definite championship contender. Plus, with the depth that New Orleans has at the position Tomlinson wouldn't be forced to carry the most of the load at running back.
What ever happens for LT, he is sure to be a first-ballot Hall of Famer and definitely remembered as one of the best running backs in league history. Not only that, but he has a been a hard-working class act since he came in the league. Gotta wish LT the best.
[Note: Bears front office....don't LOAF.]