We really can't.
It's bad enough that we're sitting on a 23-30 record going into the All-Star break but last night's loss to the Heat was the worst. Ben Gordon, who is one of the most under-appreciated players in the league, dropped 34 last night...in an L. Last night was a heartbreaker. The Bulls had the ball with less than 4 seconds left in a tie game....sure to at least make it to overtime right??? Just peep:
This is how I looked as the game changed from definite overtime, to a heartbreaking loss: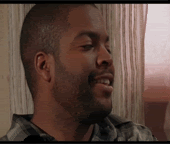 Chicago falls again.
Excuse me while I get my
Dana Jacobson
on.