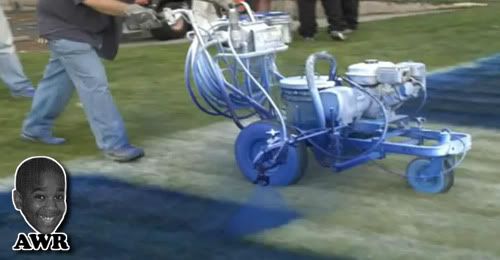 In preparation for this weekend's showdown with #3 Boise State, the coaching staff of #24 Oregon State has decided to paint their
practice field
blue to resemble the Broncos'
playing field
. Wait, what??
I mean, it
seems
like a good idea at first but is this REALLY going to prepare you for a team that's averaged 500+ yards of offense per game, scored 42 points per game, allowed only 18 points per game and has a starting quarterback with a 28-1 record at home??
Didn't think so.
Here's how the field came out:
Oregon State's Practice Field
And here's the story behind the blue turf, if you cared:
Mystery of the Blue Turf
With ALL this being said....Oregon State, did you
really
think this would help you win???
Boise State wins.