Cue Lil Wayne's Money On My Mind...
The draft started as predicted with Sam Bradford, Ndamukong Suh and Gerald McCoy going with the first three picks...but then it got a little, eh, weird. I was happy to see Eric Berry go to the Chiefs where he should make an immediate impact with two former LSU standouts in
Glenn Dorsey
and
Tyson Jackson
. Who could pass on adding THIS ↓↓ to their defense????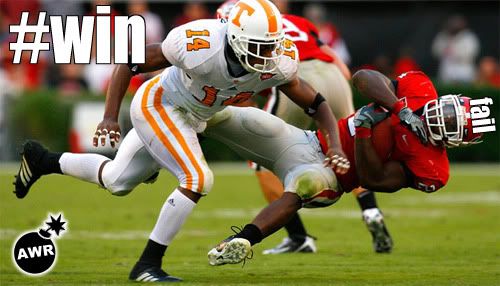 Yea. Dopeness. I was always a fan of Eric Berry over Taylor Mays but I thought it was a slap in the face that Seattle and Pete Carroll chose safety Earl Thomas instead of his former player. I was also surprised he didn't go to one of the four teams [excluding Detroit] to join already elite safeties. Butttt I guess his speed wasn't enough to make him a first-rounder. Oh well. I definitely like the Bills move getting C.J. Spiller with the 9
th
pick.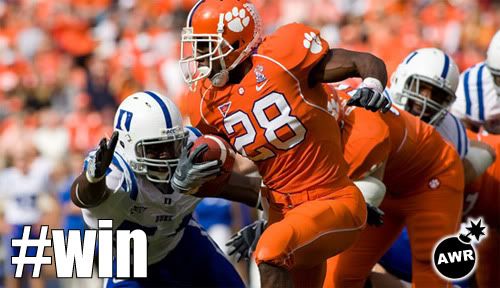 Crazy athlete, should make an immediate impact to an offense that will need it. I'm not gonna lie though, the Tebow pick by Denver was pretty much the strangest of all the picks in the first round. They actually traded UP to make it happen. I guess we'll have to wait to see if this turns out to be one of the biggest flops or steals in draft history.
Other Wins:
Joe Haden - CB / Cleveland Browns [7th]
Rolando McClain - LB / Oakland Raiders [8th]
Jason Pierre-Paul - DE / NY Jets [15th]
Derrick Morgan - DE / Tennessee Titans [16th]
Dez Bryant - WR / Dallas Cowboys [24th]
Other WTFs:
Tyson Alualu - DT / Jacksonville Jaguars [10th]
Devin McCourty - CB / New England Patriots [27th]
Kyle Wilson - CB / NY Jets [29th]
Who Knows:
Tim Tebow - QB/TE/RB/Idk / Denver Broncos [25th]
Sean Weatherspoon - LB / Atlanta [19th]
Demaryius Thomas - WR / Denver Broncos [22nd]
Biggest fail thus far has been Jimmy Clausen. Originally thought to be a top 10 pick by even Mel Kiper, he's still undrafted going into day two. Jealous'd. I was never sold on him and apparently neither were most of the NFL teams. Oh well. Maybe THIS ↓↓ picture had something to do with it...?? #cmonson
Pause and/or No homo.