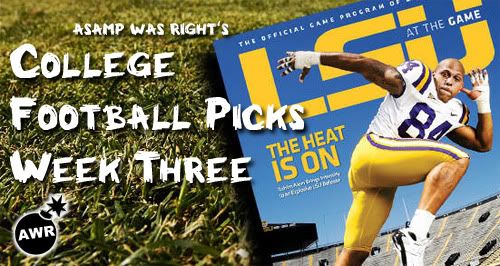 Gotta make this quick since the games are about to start...
THE (9) LSU Tigers over Louisiana-Lafayette Ragin' Cajuns. Home game, wish I was THERE. [ESPNU, 7:30]
(1) Florida [WAY] over Tennessee [Ass whoopin of the day [CBS, 3:30]
(2) Texas over Texas Tech [ABC, 8:00]
(3) USC over Washington [ABC, 3:30]
(4) Bama over North Texas [Peachtree TV, 12:20] - No bullshit, it's on Peachtree TV.
(5) Penn State [WAY] over Temple [12:00]
(6) Ole Miss [WAY] over Southeastern Louisiana [7:30]
(8) Cal over Minnesota [ESPN, 12:00]
Upsets:
Florida State over (7) BYU. It kinda sucks that it's considered an upset these days, but yea. [7:00]
Oregon over (18) Utah. Kind of a stretch without LaGarrette Blount but it's in Eugene...plus, I'm not really pressed either way. [ESPN, 3:30]
Keep an eye on:
(19) Nebraska @ (13) Virginia Tech - Should be a good one with a lot of offense. [ABC, 3:30 - VT ftw]
Michigan State @ Notre Dame - Two unranked teams but still another good game. [NBC, 3:30 - ND ftw]
(23) Georgia @ Arkansas - Not a fan of either team but Joe Cox is on the hot seat and needs a strong showing to keep his job. [7:45 - UGA ftw]
West Virginia @ Auburn - I'm tryin to see what Auburn talkin bouttt... [7:45 - AU ftw]
Northwestern @ Syracuse - Not necessarily gonna be a good game, just wanna see my man Paulus get that first W. [7:00 - SU ftw]
Should be another great week of football. Better hope your team doesn't get jealous'd...

Jets, nigga.