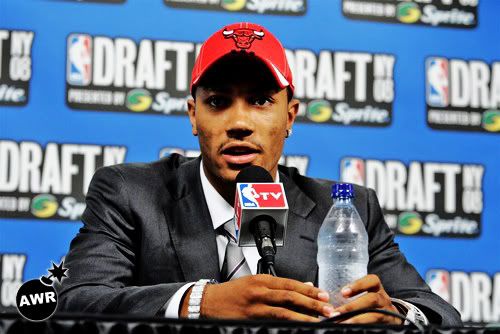 Yes. Yes. Yurp.
First off,
that'swhatshesaid
. Secondly, I saw this earlier today and couldn't be happier. D.Rose has really worked out for us so far and first picks don't always work out.
[As we all know.]
His numbers and performance were the reason he won the award: 2
nd
among all rookies in scoring, 1
st
in assists and minutes played. Bawse. I'm glad he showed that not
every
front office in Chicago sports is not
T'd
. And I'm sure his performance in Game 1 vs Boston pretty much sealed the award.
[Note: I'm not sure how OJ Mayo got completely out of the ROY picture. He scored buckets all year out in fucking Memphis. Whatever.]
NFL Draft Ish:
Shawn
and
Darry
, good luck this weekend in New York. I'm sure you're both gonna be
beasts
at the next level. Wavy.
Now onto the unwaviness.
News just dropped that future NFL first rounder Percy Harvin and former UNC WR Brandon Tate tested
positive
for marijuana during the NFL combine back in February. I understand that smoking weed might be a common thing, but to do it when you
know
you have MILLIONS of dollars on the line
AND
you know you're gonna be tested....come on man. And I like both of these guys [nh] but this was one of the dumbest things they could have done. Pulling a
Mario Chalmers
. smh. While I think this might actually make Harvin drop a few spots in the draft, I'm positive it won't effect him on the field. SEC all day. It just shows possible teams that he might have some maturity issues and he already starts his rookie year with one strike against him.
[Un]wavy.
The Draft is this Saturday and Saturday and Sunday on ESPN. Owwww.