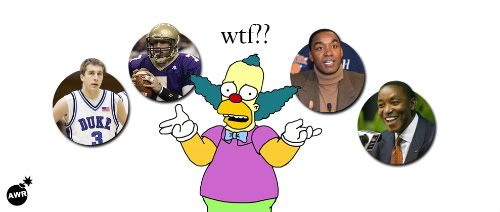 Yo, wtf??
On the eve of Playoff Basketball, the sports world is a little crazy right now. I'll elaborate.
First off, Isaiah Thomas has decided to take the head
coach
position at Florida International. Florida International?? Word??? That's the best you could get Isaiah?? When I first heard this, I immediately thought it was curtains for Isaiah Thomas. And then I heard something today that confirmed it: He's working for free next season. $0 dollars. So this new coaching gig is basically a glorified internship. Isaiah Thomas has an internship to be the head coach at Florida International. Wow.
In other nutty sports news....Greg Paulus, the former staring point guard for the Duke Blue Devils, had
work out
with the
last week. He just finished his fourth year at Duke and I guess he missed his old pastime. Paulus was a standout football player in high school and he was even named the 2004 Gatorade Football Player of the Year....but he hasn't played in four years. And definitely not on a professional level. And yesterday he even met with Michigan football coach about possibly playing for the Wolverines this year. Crazy. But stranger things have
happened
.
[Note: Playoffs start Saturdayyy. Oh shit. The NBA Playoffs Beer Pong: Where
Real
Amazing Happens.]